Fender X Wrangler Denim Strat/Stratocaster/Tele/Telecaster Black Guitar Case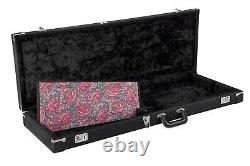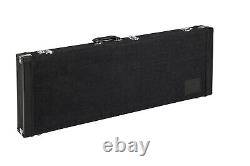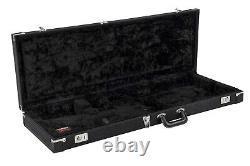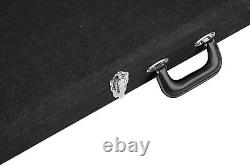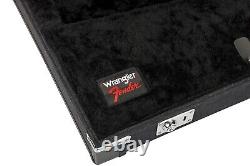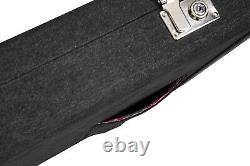 Fender X Wrangler Denim Strat/Stratocaster/Tele/Telecaster Black Guitar Case. A little bit country, a little bit rock'n' roll, our collaboration with the iconic denim label pays homage to daring artists and the denim that shaped their style for decades. Two American heritage brands, the Fender® x Wrangler® line of accessories is the co-headlining tour you didn't know you needed. These icons, with legacies rooted in authentic self-expression and independence, have teamed up on a collection designed to fit every style and any stage. With great attention to detail, each product is a timeless tribute to both iconic brands and features authentic Wrangler® materials. Built to age and last like your favorite pair of jeans, the Fender® x Wrangler® Denim Case provides the unmistakable look of Wrangler® with the trusted protection and style you know from Fender®.
Crafted from durable 3-ply wood, this looks like your everyday Fender case but features unique Wrangler® twists. With its durable denim, classic Fender pink paisley lined accessory compartment, and the iconic "W" back pocket design, this case will turn as many heads as your tightest jeans. Crafted from authentic Wrangler® denim and materials. Available in indigo and black denim. Denim wrapped 3-ply hardshell wood case.
8mm sides and 5mm top and bottom. Vinyl wrapped steel core carry handle. Soft crushed acrylic plush interior lining. Paisley lined accessory storage compartment with lid. Steel draw latches; 1 locking latch with key set.
Fits most right and left-handed Stratocaster® and Telecaster® models.