Fender Custom Shop Wildwood 10 Relic-Ready 1961 Stratocaster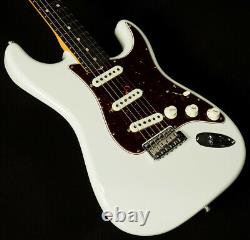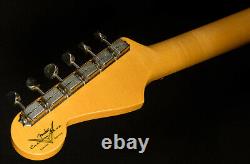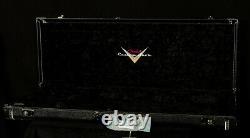 The incredible response that we've gotten from our Wildwood Tens is proof that most of the guitar-playing world loves instruments that marry modern convenience with vintage look, feel, and sound. We've also learned that there are plenty of pickers out there that like the distressed vintage look, but feel a little strange about playing a guitar that they didn't relic themselves through everyday use. For these guitarists, each ding and scratch is a punctuation mark in the story of their instrument, and they want to be in charge of what happens in the tale of their ax. Obviously, this is easier said than done. If you want to make an NOS finish look vintage through good'ol fashioned playwear, you usually have to play it for so long that it actually becomes vintage in the process.
You could put your guitar in a trash bag of burned leaves and relic it yourself like one of my coworkers, but your house will smell horrible the moment you bring it inside. Frankly, few people have enough resources, energy, or training to make it look as good as the Fender Custom Shop's builders can. So, these players have been in a pickle until now. How do you make a new guitar look vintage without having to wait thirty years or resort to crazy schemes involving bags of burning leaves? Well, we at Wildwood Guitars are proud to introduce our answer: a new line of Wildwood Tens that we have dubbed relic-readies.
These Custom Shop creations are just like the heavy-relic guitars that have been a shop staple for years-same wood, same electronics, same hardware, and same outstanding build quality-except we snatch them away from Fender before they have a chance to actually do the relic job. The result is a guitar that accumulates wear and tear at an exponentially higher rate than normal.
So, it'll look like a guitar that's been gigged for thirty years after just a couple birthdays. Finally, YOU can be the one to make your guitar look vintage! After playing and ogling the first batch of these guitars, we feel confident that this line is easily one of the coolest collaborations in the history of our friendship with Fender's Custom Shop! At Wildwood, we've been doing our best to tell our guitars' stories as faithfully as we can for thirty-four years. Now, we are excited to step aside and give the reins to our exceptional customers. What sort of interesting tales will you carve into these finishes?
We can't wait to find out with you! Years ago, we approached our friends at the Fender Custom Shop with a proposal: would they build us guitars that combined the mojo of a true-to-vintage reissue with modern handfeel and comfy modern ergonomics? They were enthused about the idea, and the Wildwood 10 was born. Thanks to the Custom Shop's incredible craftsmanship and artistry, these guitars look gorgeous, sound killer, and play like butter. Each of these Custom Shop creations features a thin fifties-style nitrocellulose finish, which allows the voice of the resonant hand-selected tonewoods to shine through.
They also have hand-wound Custom Shop pickups that are sure to inspire you to reach new heights on your sonic journey. Wildwood 10s feel great in your hands, too.
Their modern 10 radius is suitable for a wide variety of styles and techniques, and their 6105 narrow-tall frets allow you to expend less energy with your left hand, especially when bending strings. To top it all off, they come with a limited edition Dealer Select Wildwood 10 hardshell case and a certificate of authenticity.
By 1961, the Stratocaster was fast on its way to becoming a cultural mainstay after Strat-slingers like Hank Marvin took the airwaves by storm. The sixties were also an exciting time for Straotcaster design, as Leo and company outfitted them with rosewood fretboards for the first time. The rosewood produced a sweet attack that spoke to everyone from Hendrix to SRV! Our Wildwood 10 1961 Stratocasters pay tribute to the great Strat boom of the sixties, and we think they embody the sweet sounds of that era to a T.
We have a wide variety of colors, relic'd finishes, and neck profiles on tap, so we invite you to browse away and find a Strat that plucks your heartstrings. Once you do, we're sure you'll fall under the spell of the Wildwood 1961 Stratocaster. Brand: Fender Custom Shop Model : Dealer Select Wildwood 10'61 Strat Finish Color : Aged Olympic White Aging : Relic-Ready Finish Type : Nitrocellulose Lacquer Weight : 7.46 lbs. Body Wood : Alder Neck Wood : Quartersawn Maple Neck Shape :'59 Large C Neck Dimensions. 990 12th Fingerboard : AAA Rosewood Fingerboard Radius : Exclusive Wildwood Custom 10" Radius Inlays : Dot Scale Length : 25.5" Width at Nut : 1.650 Nut Material : Bone Frets : 21 6105 Narrow Tall Pickups : 3 Hand-Wound Wildwood 10 Strat Single-Coils Controls : 1 Volume, 2 Tone, 5-way Switch Hardware : Chrome/Nickel Bridge : Vintage Tremolo Tuners : Vintage Style with Gold Buttons Case : Limited Edition Hardshell Case with Embroidered Custom Shop Logo COA : Yes.
This item is in the category "Musical Instruments & Gear\Guitars & Basses\Electric Guitars". The seller is "wildwoodguitars" and is located in this country: US. This item can be shipped to United States.