Fender Custom Shop Wildwood 10 1957 Stratocaster Heavy Relic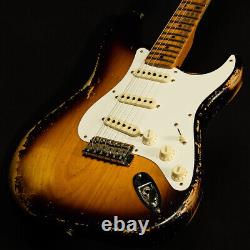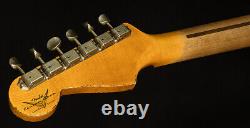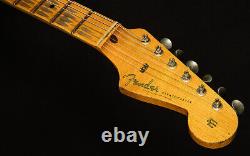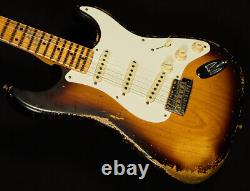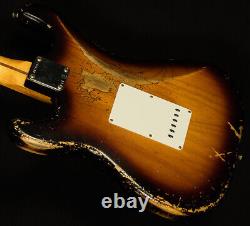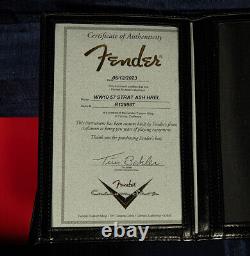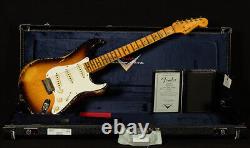 Years ago, we approached our friends at the Fender Custom Shop with a proposal: would they build us guitars that combined the mojo of a true-to-vintage reissue with modern handfeel and comfy modern ergonomics? They were enthused about the idea, and the Wildwood 10 was born. Thanks to the Custom Shop's incredible craftsmanship and artistry, these guitars look gorgeous, sound killer, and play like butter. Each of these Custom Shop creations features a thin fifties-style nitrocellulose finish, which allows the voice of the resonant hand-selected tonewoods to shine through.
They also have hand-wound Custom Shop pickups that are sure to inspire you to reach new heights on your sonic journey. Wildwood 10s feel great in your hands, too. Their modern 10 radius is suitable for a wide variety of styles and techniques, and their 6105 narrow-tall frets allow you to expend less energy with your left hand, especially when bending strings.
To top it all off, they come with a limited edition Dealer Select Wildwood 10 hardshell case and a certificate of authenticity. Nineteen fifty-seven was a banner year for the Fender Stratocaster. Though the Stratocaster became a runaway hit after hitmakers like Buddy Holly toted them on stage, Leo Fender's tireless commitment to excellence led him to introduce a number of improvements to the Stratocaster's design. In a quest to cater to players' demands, he introduced a soft V-shaped neck profile, and he started building some of the bodies out of alder. Our Wildwood 10 1957 Stratocasters pay homage to Leo Fender's relentless work ethic by replicating the glories of the original heavenly'57s.
We have a wide variety of finishes with various types of relic-ing and lots of neck profiles, so we're sure you'll be able to find a'57 that speaks to you. We invite you to browse our selection and experience the myriad delights the Wildwood 10 1957 Stratocaster has to offer.
Brand: Fender Custom Shop Model : Dealer Select Wildwood 10'57 Stratocaster Finish Color : Faded 2-Tone Sunburst Weight : 7.03 lbs. Aging : Heavy Relic Finish Type : Nitrocellulose Lacquer Body Wood : Highly-Figured Ash Neck Wood : One Piece of Quartersawn Maple Neck Shape :'57 Soft V Neck Dimensions. 980 12th Fingerboard Radius : Exclusive Wildwood Custom 10" Radius Inlays : Dot Scale Length : 25.5" Width at Nut : 1.650 Nut Material : Bone Frets : 21 6105 Narrow-Tall Pickups : 3 Hand-Wound Wildwood 10 Strat Single-Coils Controls : 1 Volume, 2 Tone, 5-way Switch Hardware : Nickel/Chrome Bridge : Vintage Tremolo Tuners : Vintage-Style Pickguard : Single-Ply Parchment Case : Limited Edition Hardshell Case with Embroidered Custom Shop Logo COA : Yes.